Quality Comfort
Rising energy costs and the shift to environmental options call for effective and efficient insulation solutions for the home or office. Urethane spray foam insulation is still one of the most highly-proven insulation materials to cut energy usage. With Titanium Insulation, we use top-quality, safe chemicals to create the material to apply to any part of your desired area. It is our commitment to keep our staff trained and to regularly review our methods to adhere to Ontario health and safety standards.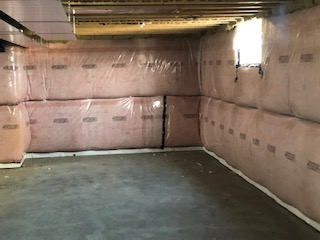 Whether working on the roof, in your attic, in the basement, crawl spaces, or even your garage, our professional staff precisely installs material, getting into every inch and nook of the space covered to accurately manage airflow, thermal retention and moisture. Titanium Insulation can do retrofitting or install insulation material to a new building project. The key to urethane spray foam insulation is how air-tight it is. With years of experience, Titanium Insulation has mastered the skills and techniques to ensure proper spray foam installation. Our insulation work forms air and vapour blockage resulting in an airtight barricade against the loss of warmth and cool from HVAC systems and prevents mould formation.
Titanium Insulation believes that building a strong customer relationship leads to the best quality results. We strive to involve you in every step of the project to properly address issues. We are a professional insulation service provider with thousands of clients enjoying a cozy and comfortable environment in their homes. We know that every home deserves the highest level of comfort and we constantly seek ways to improve our processes to serve your best interests. Titanium Insulation uses different insulation materials catering to the needs of our clients. Our commitment to the environment and community led us to make use of green materials. We have fiberglass, cellulose, recycled materials and wool.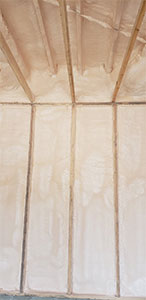 Titanium Insulation takes the safety of our clients and staff very seriously. We are dedicated to ensuring our practices and standards are kept up to date to assure that we comply with all industry and legal requirements and regulations. Our staff is trained with all safety rules and techniques. Our processes adhere to the laws, rules, and regulations in Ontario guaranteeing that legal requirements and industry standards are met. We've been servicing the Ontario community for more than 18 years. Since our beginning, we have provided insulation solutions for our satisfied customers across the Waterloo Region to Guelph/Eramosa, Brant County, Oxford County, and Perth County.
You'll be kept warm during the winter and cooled in the summertime. Fiberglass batts are one of the most sustainable insulation solutions. This material has a high tolerance against corrosion, preventing rust, anti-inflammatory in cases of fire and are less susceptible to corrosive substances.
With more than 18 years of exceptional insulation servicing experience, Titanium Insulation has mastered its craft. We are versatile and responsive to every client need, working both on retrofitting and on newly-built spaces. Our staff efficiently installs fiberglass batts on different surfaces – existing spaces like attics or basements or for new areas like a recently completed home or office. Titanium Insulation knows that to maximize the versatility of fiberglass our staff has to be fully competent. That is exactly what we have delivered down through the years. We continually evolve to adapt not only our materials but also with the industry and the overall market.
Titanium Insulation provides more than just insulation, we have a whole system of top-calibre moisture and vapour control systems ready to be installed in your home and/or office. Ontario's Building Code is specific but complicated in regulating vapour barriers. Titanium Insulation is not only up to date with the laws, rules, and regulations pertinent to our services, but we also stay current with developments in the industry and best practices. We are committed to building better spaces for you. We utilize materials and create vapour barriers that boost structural durability and indoor comfort for homes and offices in Ontario. Our vapour barrier installation effectively encloses conditioned air, allowing you to save up on energy and keeps your HVAC systems well-conditioned.
Quality performance includes the use of quality materials and tools. We supplement our staff's talents with the quality materials and tools to meet your expectation, adhere to regulatory compliance and ultimately to provide quality installations. Vapour barrier installation can easily be executed by anybody including yourself. What sets us apart is our professional methods and results. Titanium Insulation has trained and experienced installers who provide expertise, knowledge, experience, and skills in getting you professional vapour barriers with functions you can truly maximize. Titanium Insulation insulates your basement too! Our spectrum of services includes specialized insulation for your basements with professional results.
Some basements aren't fully finished, needing extra work for insulation. With Titanium Insulation, we utilize materials and techniques that can work on different basement surfaces, which minimizes work time and costs. It saves you from the hassle of having to deal with installation work and added costs for finishing. Titanium Insulation's services maximize the benefits of insulation through proper installation. We also use installation strategies that are efficient without compromising quality, while our materials are environmentally friendly.
Call our office from Monday to Friday, 7:00 AM to 5:00 PM
Or contact us at
(226) 929-2391
(226) 338-4691